Welcome to the Blue River Resort & Hot Spring's Blog!
Before your stay at Blue River Resort & Hot Springs or your 1-day Eco-Adventure Tour, check out our Costa Rica Blog. We invite you to use our blog as a tool to discover and share travel experiences. As fellow explorers, we will be reporting on a variety of interesting topics, both about Blue River Resort & Hot Springs and traveling in Costa Rica in general. Each blog will relate a traveler's personal experience. Hopefully it will help you to prepare before arrival and then enable you to get the most out of your stay - at one of Costa Rica's top resorts and Costa Rica. The blog will focus on activities and experiences at the Blue River Resort & Hot Springs and other beautiful Costa Rican vacation spots with a concentration in Liberia, Guanacaste, Alajuela, Santa Cruz and San Jose.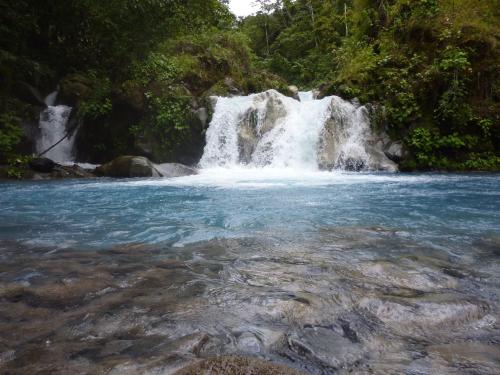 Since we each have different objectives for creating that perfect vacation, we will provide as much variety as possible. This is also an opportunity for us to share memorable experiences and outstanding moments. That way, your planning will be easier. Therefore, we invite you to send us your travel tips and experiences for this blog. Start by making a list of the "ingredients" that you want during your stay, especially places of interest and features of the Cost Rican destination that appeal to you.
We believe that the logistics involved in getting to places, can be half the battle. Costa Rica is a small country, but the geography and road system can make for long bumpy rides- be prepared. A new destination presents many choices with respect to top resorts, preparation, what to bring, where to eat and what to order. There is also so much that arrises the curiousity about Eco-adventure playground. Blue River Resort has many spectacular wonders and we will be pointing out other Costa Rican destinations as well. We will work out the details of getting you there. Check the reviews on websites like TripAdvisor.com in Costa Rica, YouTube.com for videos and other blogs. These make great suggestions for the independent-minded Eco-tourist and the adventure traveler alike. Knowledge of the Resort, other Costa Rican Hotels, restaurants, tour operators and their destinations, all increase your chances of maximizing your enjoyment, not to speak of doing it all on budget. Best of all, our blog, like many of the other online resources, is free to use and easy to research.
The small choices made now, will be the difference between having a good vacation and a great vacation. We want you to create the best possible Costa Rican resort experience. Now, it's time to take your ideas and turn them into plans for enjoying a vacation at top Costa Rica resorts including the Blue River Resort & Hot Springs. You are not alone.

As we say in Costa Rica "Pura Vida"!