Mountain Bike Costa Rica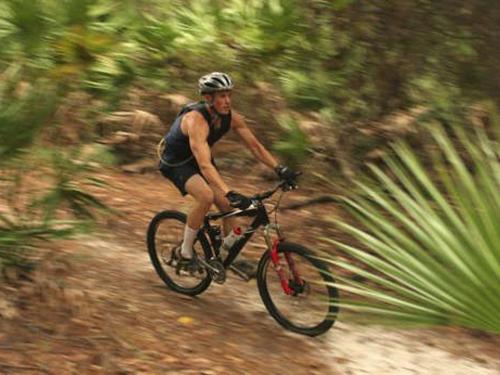 Mountain Bike Rincon de la Vieja
Mountain bikers love being out being in nature and there is no better location for this breed of Eco-tourism adventure than Costa Rica. In particular the lesser known dirt roads and paths at Rincon de la Vieja in the province of Guanacaste combine awe inspiring beauty found no where else. Several tour companies specialize in mountain biking trips in Costa Rica. For those who are less ambitious, visitors can experience Costa Rica's beautiful outdoors, by renting a bike by the hour in order to hit the trails. There are scenic trails and leisurely rides through the countryside. Reliable bike shops are available with experienced multilingual guides and clearly marked trails. Many touring mountain bikers stay the night at Blue River Resort & Hot Springs along their route
Mountain Bike Rincon de la Vieja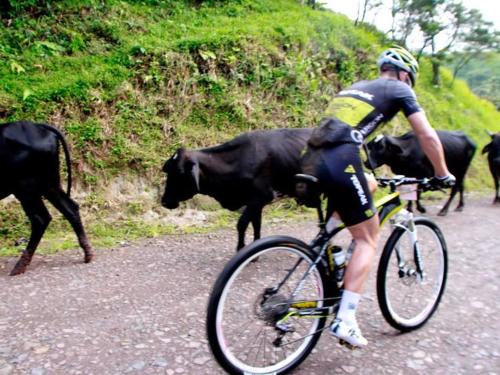 Trails are rated by the level of difficulty and suggested level of experience. The time required to complete each sector is also shown. The levels of difficulty are:
Easy Moderate Difficult Very Difficult Experts Only
Ride through tropical forests, traditional farmlands, plantations, cloud forests, national parks and lakeshores and along the Pacific Ocean, Outfitters can supply support services such as transportation, maps, beverages, snacks and even suntan lotion. Ask questions and you can be sure of getting lots of 'free advice' on where to rest-up and enjoy other activities along the way. When staying at the Blue River Resort and Hot Springs the reservations desk is available to bikers for advice and recommendations at no cost.
Maps show trails and routes available throughout the country. Look for details such as the required level of fitness and off road experience recommended; suggestions such as the average time required completing the route. Also, features such as downloadable maps are available, with specific details of the respective course, the scenery, and GPS coordinates.
Some Guanacaste Mountain Biking Tours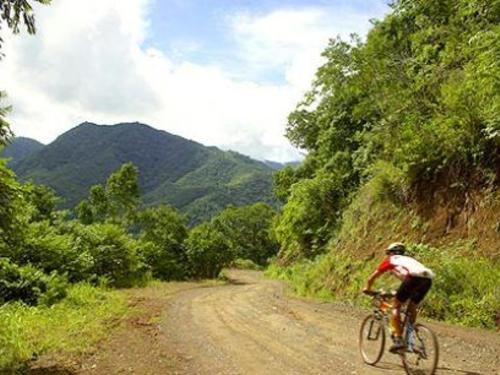 Two Hour Guided Mountain Bike Tour of Las Catalinas Single Track Trails
Explore the 10+ km of single track trail starting steps away from Pura Vida Ride. We'll deck you out with a helmet and a hard tail mountain bike, from our high end inventory and show you some of the most majestic views from single track coastal trails in all of Costa Rica. This tour lasts 1.5 to 2 hours
Old School Guanacaste 1 Day Tour
From our backyard at Pura Vida Ride, take a ride 100 years back in time on our Old School Guanacaste Adventure! Experience architecture, towns, and scenery that few get to see on their travels. Climb high passes followed by technical single track, leisurely country roads, amazing waterfalls with swimming holes, lots of exciting river crossings and more! We'll see majestic Guanacaste trees and strangler figs, Pochotes, and other local tree species. Our guides will bring Costa Rica alive for you! This trip can be modified to accommodate beginners, intermediate, or advanced riders.
Nicoya Coastline Tour
Our five day Nicoya Peninsula Mountain Bike adventure begins in Santa Cruz and takes the coastal route through Nicoya all the way to Malpais and beyond. Crossing rivers, beaches with dramatic ocean vistas, heart pounding ascents and thrilling descents will be part of every day as you ride deep into the heart of the Nicoya and experience a side of Costa Rica travel few tourists ever see. It includes an afternoon snack. All multi-day tours are customized specifically to each group.
Volcanoes Tour
This seven-day Volcanoes Tour Mountain Bike adventure starts at the base of the famous Arenal volcano and winds its way north past Tenorio volcano and through the heart of Rincon de La Vieja national park. You'll climb to altitudes of 5,000 feet and end up at sea level on the last day as we wind our way through Santa Rosa National Park and end up on the beach at the famous Witches Rock at Playa Naranjo. This spectacular trip is bound to make you happy! All multi-day tours are customized specifically to each group.
For Expert Mountain Bikers
The annual La Ruta de Los Conquistadores Race is a true test of man and his capabilities. This is for the serious Mountain Biker. Top local and international athletes compete in a 3 day tournament which was first staged here in Costa Rica over twenty-one years ago. Today, there are other competitive events organized in other countries, but it is difficult to find one that can equal the challenge, diversity, and spectacular beauty of 'La Ruta De Los Conquistadores'.
In 1993, Roman Urbina an avid Costa Rican Mountain Biker, athlete, and adventure seeker retraced the path of the Conquistadores that first landed in Costa Rica in the 1500's on his Mountain Bike. The Conquistadors journeyed inland crossing from the Pacific coast of Costa Rica to Limon on the Atlantic coast. Urbina set out, along with seventeen other riders, to follow their steps across the country. That was the beginning of what is now a world recognized, annual sporting event. The mission behind the event is to draw the public's attention to the needed protection for the environment and the endangered wildlife in Costa Rica. Urbina named the event 'La Ruta'
During the first 12- years of competition the top honors went to Costa Rican riders. Entrants grew steadily from the initial 17 riders to 500- competing by 2005. In that year, Thomas Frischknecht, a Swiss champion-rider took top honors and was the first 'visitor' to win the event. The most winning rider has been Federico Ramíre, a Costa Rican who has won the grueling event five times. The 2014 overall winner of the 'Elite Men's' is Luis Leao Pinto of Portugal; the 'Elite Women's' event was won by Angela Parra of Colombia.
Considered by many to be the toughest mountain bike race in the world, the Race Organizers describe it as follows:
"La Ruta riders get a chance to see and hear many of them as they travel through nine of the country's twelve different microclimates. As the route snakes through tropical rain forest, 12,000 feet volcanoes, banana plantations and tiny farm towns, it alternatively drenches you in rain and freezes you in high elevation. Over every imaginable riding surface— singletrack and fireroad trails, gravel, hard-packed dirt, pavement, thigh-deep mud, sand, volcano ash, and more — the route will have you making endless granny-gear chugs, hike-a-bikes, and white-knuckle descents through and over rain forests, sweltering jungle, steaming volcanoes, breezy coastline, suspended bridges and deep river gorges.
This is not a race for the novice rider, experts often shake their heads as the recount their ordeal in a race that took everything out of them."
If you are ready for a challenge, and are in the best physical shape of your life, contact the La Ruta de Los Conquistadores – Adventure Race Organizers at info@adventurerace.com or call then at 506.2280-5067.
The current entrant categories are*:
• Elite Women
• Elite Men
• Masters 'A' 30-39
• Masters 'B' 40-49
• Open Men

*Details of the event are sometimes altered e.g. for the last two years there has been a category for 'Fat Bikes' added to the list of competitors. Check the Race Organizers for updated details for the next event.
The three day race runs from the Pacific coast to the Atlantic coast, covering terrain that most people would think twice before hiking over. Competitors cover nearly 400 kilometers of mountain bike trail. A handful of full-time Organizers work to manage the business of race organization annually; over 100 persons are involved in the actual running of three-day event.
Entrance fees vary, and will include breakfast, lunch, fresh fruit and electrolyte drinks, etc. Red Cross and rescue services travel on the route; race insurance is included in the entrance fee. Accommodation for the two nights is included in the package. Sponsors provide promotional material, prizes, and the event is very highly publicized by the media internationally.
Happy Trails
Pura Vida