Guanacaste Hotel & Resorts
Blue River Resort & Hot Springs, Costa Rica
Amenities
____________
Blue Rivers
Hot Springs Pools
Fresh Water Pool & Waterslide
Botanical Gardens
Butterfly Gardens
Natural Mud Bath
Miniature Horses & Donkeys
Fish & Turtle Ponds
Hummingbird Sanctuary
730 Sq Ft Cabanas
Eco-Adventure Tours
_______________________
Dino Park
Horseback Riding
Hiking
Zip Lining
Water Tubing
White Water Rafting
Snorkelling
&
MANY MORE!
The Ultimate in Relaxation and Adventure
"Local legend says that God washed the brush in the Blue River after painting the sky blue...."
Don't wait till 2017 is over ...Experience a Paradise on Earth...
Discover the North Side of Rincon de la Vieja Volcano National Park
Vacation at Blue River Resort & Hot Springs to discover awe-inspiring nature activities, that are both relaxing and adventurous at a boutique hotel setting. The hot springs are our jewel together with many natural amenities. After partaking in the numerous on-site activities, set forth on Eco-adventure tours (all on-site or nearby) inside a lush jungle rain forest with stunning volcano views, blue rivers and grand waterfalls.
Our newest addition is Dino Park where life-size, moving dinosaurs are roaming inside the rain forest, a can't miss adventure for the whole family! Come stay with us and if you can't, come for a 1-day tour.
Our newest addition is Dino Park where life-size, moving dinosaurs are roaming inside the rain forest, a can't miss adventure for the whole family! Come stay with us and if you can't, come for a 1-day tour.
Read & watch for a taster of what is in store…
The Hotel | Rooms | Amenities | Tours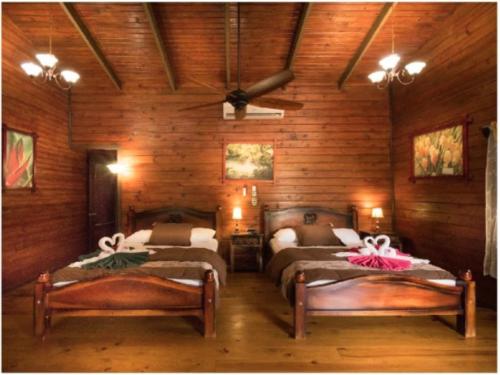 Your Cabana
We call our rooms Cabanas because they are 720 square feet, with an emphasize on personal comfort. It accomdates a single, a couple or family of up to 5.
Choose either two queen beds or king size bed configurations that include a mini fridge, in-room safe, 42" TV, coffee maker, hair-dryer, ceiling fan and air conditioning.
On the large balcony, you won't be able to resist lying out on the hammock overlooking the sunset, the rolling mountains, gardens, volcano, and seemingly-everlasting jungle.
A full breakfast is included and if you have up to two kids under 10, there is no extra charge. Learn more...
Hot Springs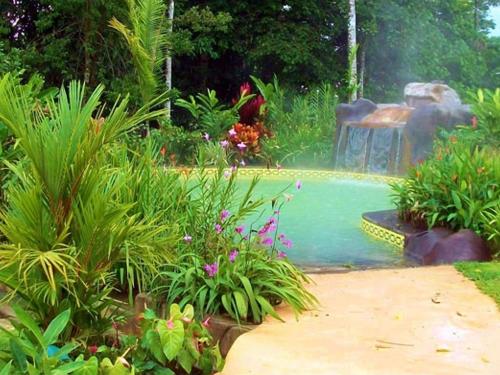 Natural Mineral "Green" Hot Springs
Harnessing the natural mineral "green" hot springs to create our gorgeous pools represents a crowning achievement. Costa Rica is known for hot springs and spectacular exotic settings but few are natural. Blue River Resort & Hot Springs has this in abundance and also boasts a mineral-rich qualities (aka the healing power). Learn more...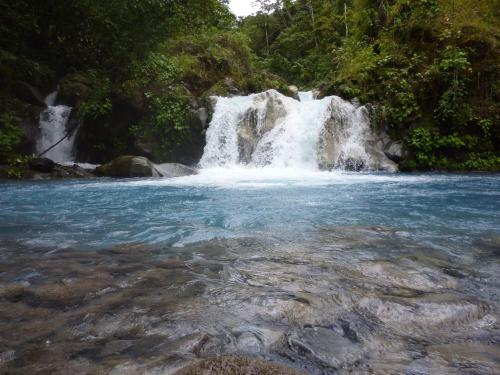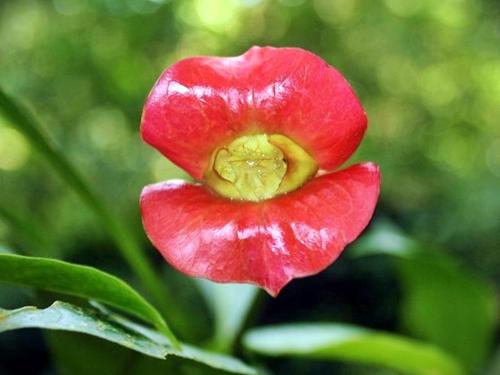 Blue River Botanical Gardens
Meander these tropical gardens along trails to encounter abundant rainforest species. There are many gardens and ponds. Look out for toucans and many other colorful birds. Visit fish ponds, iguana center, hummingbird sanctuary, colorful frogs, a turtle pond and even two baby crocodiles. Throughout the year there is an abundance of flowers, many of which are unique to Costa Rica. Stop at the benches to emerce yourselves in the pleasant smells and overwhelming beauty. You can spend the whole day here.
Learn more...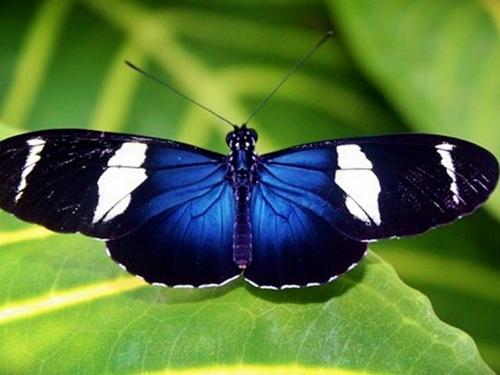 Butterfly Gardens
Discover Costa Rica's plentiful, unique and colorful butterfly species. We promise you won't be disappointed by our butterfly gardens. Its actually a farm, where caterpillars are attracted to the plants grown here. At Blue River Butterfly Gardens we farm the Caligo Atreus, Illioneus, Morpho Peleides and Heliconius Sara. Learn more...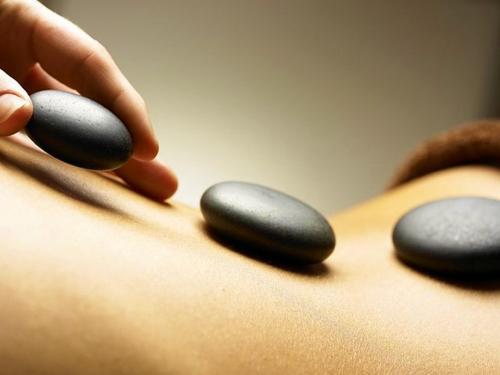 Blue River Spa and Gym

Our body is our temple, so choose from a menu of treatments for the one that is right for you at Blue River Spa. Learn more...
Work-out in the fully-equipped gym then for extra sweat there is a sauna. Here, we believe good health is a matter of choice, not chance - a perfect complement to the healing powers of our hot springs.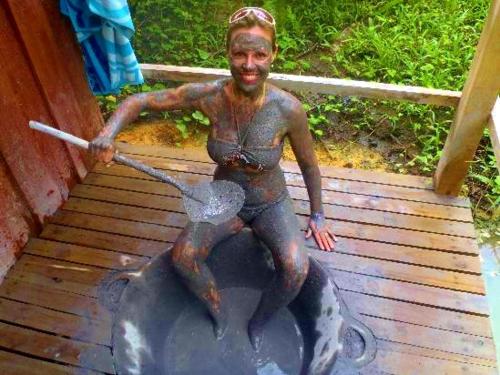 Natural Mud Bath & Sauna
The mud bath facility is located inside the botanical gardens where there is a hot springs creek and a fresh water creek. We begin the treatment with natural sauna that is positioned over the hot springs creek. Afterward, we move to apply the volcanic mud. Then sit, relaxing while it dries before showering off in a fresh water creek. By combining the treatment with the hot springs you'll be, "all natural" and a little smelly, but your skin will feel great!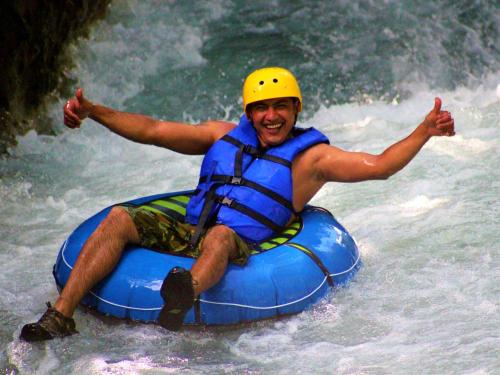 Eco-Adventure Tours
Choose from a fantastic variety of Eco-adventure tours, most of which, are near the hotel, along the Rincon de la Vieja. Be prepared to enter a rainforest jungle with volcanic blue rivers, grand waterfalls, hot springs and other spectacular attributes. Spot exotic birds and animals, like toucans, howler monkeys and sloths in their natural habitats. Guided tours include hiking, walking nature trails, horseback riding, zip lining, water tubing and rafting.
Learn more...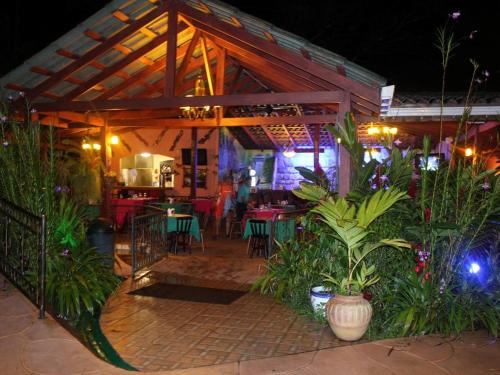 The Tiki Bar and Restaurant
The Tiki Bar and Restaurants is situated among the hot spring pools, across from the hotel, surrounded by the sights and sounds of flowing water and views of the majestic volcano, Rincon de la Vieja. Our long time Chef Yorbis Solano takes great pleasure pleasing clients with delicious local and continental fare.
Learn more...
Our Miniature Horses & Donkeys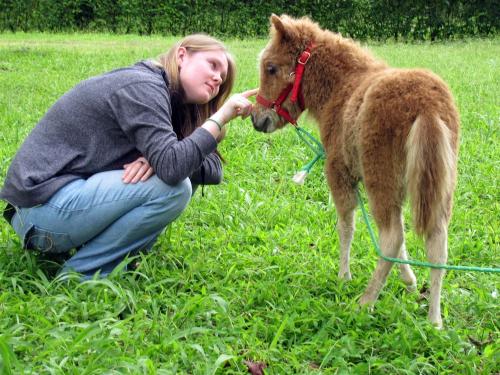 Meet our miniature horses and donkeys, which are fast becoming among the most beloved equine breeds - and you'll discover why. They are gentle by nature and appeal to people of all ages.
LOCATION
Only an hour's drive from the dry heat of Liberia (LIR) and the Guanacaste beaches, is the north side of Rincon de la Vieja, where the developers of the hotel discovered hot springs and where the geography transforms into a cool, lush, rainforest paradise. While in the rainforest overlooking the majestic volcano, you'll discover amazing blue rivers, hot springs, thundering waterfalls and colorful flora and fauna. The locale is idyllic and your vacation, whether a family, a single or a couple on honeymoon, will have unforgettable experiences for both relaxation and adventure. Here are directions, maps and GPS coordinates.
RCI® has presented this award to Blue River Resort & Hot Springs for providing an exceptional vacation experience. The 2018 RCI Gold Crown Resort Hospitality Award represents recognition for "consistently offering superior holiday experiences" and as a way to "applaud you and your team's extraordinary commitment to providing quality facilities and service."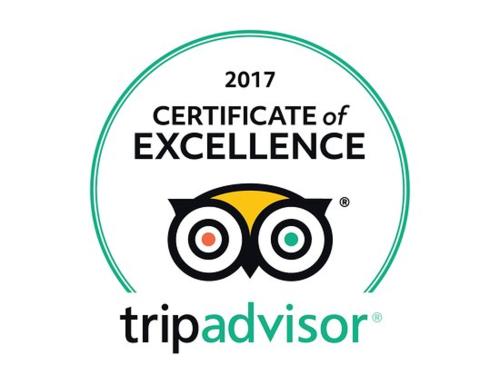 TripAdvisor Certificate of Excellence 2017
Only one year after opening Blue River Resort & Hot Springs was recognized as among the best hotels in Central America for families back in 2011. Once again, TripAdvisor announced award winners on June 20, 2017 and the Award of Excellence was bestowed on Blue River Resort & Hot Springs. The Certificate of Excellence is awarded to properties that consistently achieve outstanding traveler reviews on TripAdvisor. There can be no greater seal of approval than to be recognized by one's clients. The staff at resort feel honored to be the recipient of this remarkable accolade that affirms our commitment to excellence.
So, what are you waiting for? We look forward to welcoming you to our paradise! The Fodor's Choice Award
The team at Blue River Resort & Hot Springs in Costa Rica are proud recipients of the prestigious Fodor's Choice Award. To quote Fodors comments about the hotel, "These places are the "best of the best," providing remarkable experiences in their price range, destination, or category." We think you'll agree.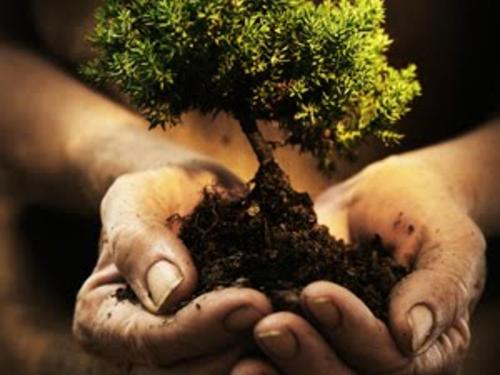 Environmentally and Socially Conscious
When you choose Blue River Resort & Hot Springs, you choose a one-of-a-kind destination that is dedicated to responsible and sustainable eco-tourism with a strong environmental mission. We are firm believers that our unique location provides us the opportunity to operate a sustainable business, to showcase the area's natural beauty and all the while, protecting it. In addition, we strive to give back to the community by educating local children on environmentalism and ecology. Come be a part of ecotourism and discover the magic of Costa Rica with us!
Rincon de la Vieja - Why the north (Caribbean) side?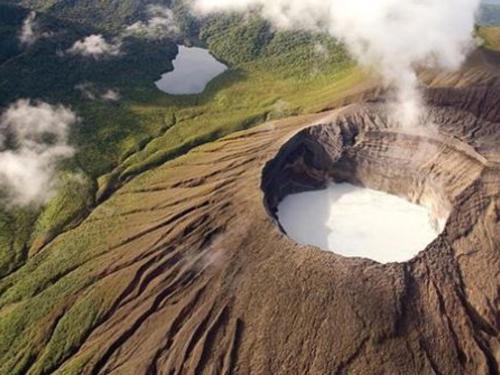 The Blue River Resort & Hot Springs can be found along the north base of Rincon de la Vieja's Volcano National Park, (also called the Caribbean side). Its a little further to come, compared to the south side, but only the north side is in the rainforest, has blue rivers and natural mineral hot springs. The spectacular surroundings include panoramic views of the volcano, jungles, and grand waterfalls. Nothing compares.
To reach Blue River Resort & Hot Springs takes about an hour from Liberia, Costa Rica, which is the gateway to the beach hotels along the Guanacaste coast. The drive here is spectacular in and of itself. After turning off the Pan American Highway the dry, hot, climate and flat landscape will begin to give-way while ascending to a cooler, lush rainforest with views of stunning mountain ranges. A rural way of life will also unfold, with locals on horse, moving livestock, living on farms and living simply.
We, at Blue River Resort & Hot Springs look forward to hosting your authentic, green and eco-friendly Costa Rican vacation!